Think you know your town?
Visiting Aberaeron? A photo quiz for all…
A lovely way to get to know our town for all the family  – collect a photo town trail from the Tourist Information Office and wander round the town finding where the photographer stood! Explore our cafes and pubs en route when you need a breather.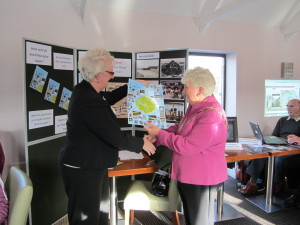 The Mayor of Aberaeron, Mrs Owenna James, welcomes the new Town Photo Trail from Clare Thomas on behalf of Cymdeithas Aberaeron Society